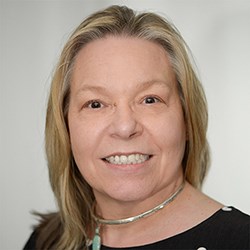 THERESA HURLEY

Controller, Property Management
Theresa has over 25 years of professional accounting experience throughout her accomplished career. As the Controller, Theresa guides complex financial decisions by establishing, monitoring and enforcing company policies and procedures. She has an intrinsic, analytical ability to continually develop and implement improvements to all HNN accounting processes. Theresa has a profound understanding of economic principles, financial data analysis and reporting. She leads the accounting team with a strong commitment to integrity and expertly interfaces with outside financial institutions.
Prior to joining HNN in 2013, Theresa was a property accountant for a large, reputable management firm. There, she managed all facets of accounting for 30 affordable housing projects and worked collectively with over a dozen industry leaders. With 13 years of progressive accounting experience in the property management field, Theresa is exceptionally skilled at using Yardi, e-Site/AMSI and Boston Post software. Her areas of strength include supervisory duties, financial statements, general ledger, cash management, payroll, accounts receivable and bank reconciliations.
In her free time, Theresa enjoys spending time kayaking, hiking and other outdoor activities. You can often find her reading a book and spending time with her family.
---